Church Growth Study of the Church of Christ among the Aja
by Richard Chowning
For Period Ending January 16, 2000
Overall Growth
1999 was the first full year of church planting among the Aja. It was an outstanding growth year. There are now 377 members. This is an increase of 229 or 154.7% over last year. The bulk of that growth came from as a result of nine new congregations being planted. That brings the total number of congregations to sixteen, a 129% increase.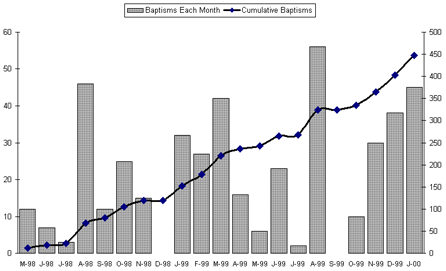 There were 303 baptisms this year compared to 142 last year. That is a 113.3% increase. A little over two-thirds of those took place in the new church plants.
Our long range goal of one hundred congregations and two thousand members by the year 2003 is well within reach, if the present rate of growth is maintained. The current evangelistic force is not sufficient to sustain this growth. The mobilization of the entire team of missionaries and a large number of Aja evangelists is required to plant and mature that many congregations.
Several factors contribute to the dramatic growth this year. The meager evangelistic work force was augmented by new missionaries and nationals. In 1998 only Greg Bailey and Richard Chowning were involved in church planting. This year David Hicks became the third missionary to plant churches. He planted three of the new churches. In March Joseph Limakpo, a Christian from the Kaiteme congregation, became the first Aja to plant a congregation without the presence or assistance of a missionary. He planted the Eglime congregation and it is now the second largest congregation. National evangelists were involved to various degrees in the planting of all of the congregations this year. Some of them are currently working on their own at new preaching points. We expect to see several new congregations planted by Aja evangelist in 2000.
Another factor contributing to the growth, is the development of two clusters of churches. There are eight congregations within a ten mile radius in an area which begins fifteen miles to the north and northeast of Aplahoue. This is presently the area of greatest growth. Of the nine congregations planted this year, seven of them are in this cluster. Last year only the Dandjihoue congregation existed in this area. In the southwestern part of Djakotome district another cluster of four congregations has been formed. Two of the congregations were planted this year. These clusters of congregations bode well for stability of the church in the years ahead. Many of the Christians have relatives in sister congregations within the cluster. Cluster-wide meetings are beginning to take place. Such meetings allow the Christians to receive teaching from other Aja preachers and be strengthened by being part of a larger body of believers.
| | | | |
| --- | --- | --- | --- |
| | Total Baptized | Total Faithful | Reversion Rate |
| TOTAL | 476 | 377 | 20.8% |
| Kadahoue | 58 | 43 | 25.9% |
| Eglime | 43 | 39 | 9.3% |
| Dekpo | 64 | 38 | 40.6% |
| Numovihoue | 37 | 37 | 0.0% |
| Koyohoue | 35 | 34 | 2.9% |
| Takpacime | 44 | 30 | 31.8% |
| Gbakonou | 23 | 22 | 4.3% |
| Keletume | 30 | 21 | 30.0% |
| Djoumahou | 35 | 20 | 42.9% |
| Avedjin | 23 | 19 | 17.4% |
| Badjame | 17 | 17 | 0.0% |
| Kaiteme | 26 | 17 | 34.6% |
| Dandjihoue | 16 | 15 | 6.3% |
| Dadohwi | 11 | 11 | 0.0% |
| Dadahoue | 9 | 9 | 0.0% |
| Hungba | 5 | 5 | 0.0% |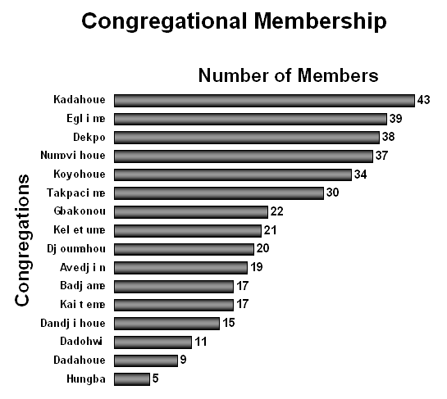 The average size of the congregations is consistent with last year (1998 - 21.7; 1999 - 23.5). However, that figure hides the fact that the number of larger congregations has increased radically. Last year only two congregations had more than thirty members. This year there are six. Half of those were planted this year. Four of them (Kadahoue, Dekpo, Koyohoue, and Takpacime) are now maturing independently without the regular presence of a visiting evangelist.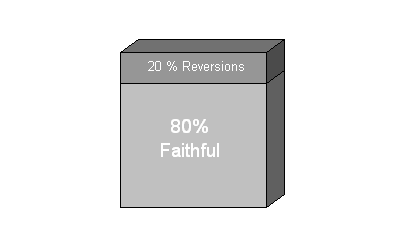 Last year in all the churches there was a 5.1% reversion rate. At that time all the congregations were less than eight months old. That is not sufficient time to give a true indication of a reversion trend. The normal range for reversion rates in rural Africa is 30-35%. This year the reversion rate in the entire movement among the Aja was a tolerable 20%. The reversion rates were significantly higher in three congregations: Djoumahou (42.7%), Dekpo (40.6%), and Kaiteme (34.6%).
Church Planting
Nine new congregations were planted in 1999. They are:
| | | | |
| --- | --- | --- | --- |
| | Total Baptized | Month Preaching Began | Month of First Baptisms |
| Eglime | 43 | Jan. 99 | March 99 |
| Numovihoue | 37 | Aug. 99 | Dec. 99 |
| Takpacime | 44 | July 99 | Aug. 99 |
| Gbakonou | 23 | Sept. 99 | Oct. 99 |
| Keletume | 30 | Jan. 99 | June 99 |
| Badjame | 17 | Feb. 99 | April 99 |
| Dadohwi | 11 | Oct. 99 | Nov. 99 |
| Dadahoue | 9 | Oct. 99 | Jan. 2000 |
| Hungba | 5 | Oct. 99 | Jan. 2000 |
Church Maturation
Maturing Independently
Kadahoue; Koyohoue; Keletume;
Djoumahou; Avedjin; Kaiteme; Dandjihoue
Established
Eglime; Numovihoue; Takpacime;
Gbakonou; Badjame
Initial
Dadohwi; Dadahoue; Hungba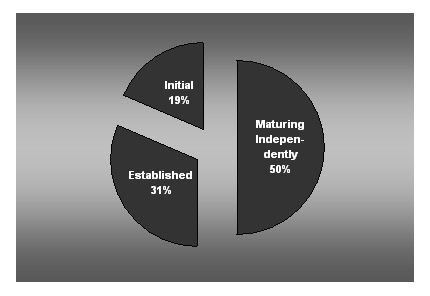 Half of the congregations are maturing independently. The evangelist who had been meeting with them each week has gone on to plant other churches. He will return, when invited, to help them with specific lessons they desire to learn. Out of these congregations come the opinion leaders and visionaries for the entire movement among the Aja.
All of the congregations in the Established stage have been planted within the past twelve months. They are still receiving fundamental nurturing lessons.
Other Vital Signs
Functional Substitutes
Before their conversions, Aja Christians took part in the common events of life, such as birth, death, marriage, and festivals. They have come to understand that many of their traditional practices concerning these events are not pleasing to God. As the church among the Aja matures she will develop ceremonies and rituals that are pleasing to God. These new practices become functional substitutes for the ceremonies and rituals that their non-Christian neighbors continue to perform. A couple of functional substitutes have begun to take shape.
December and January are the time for festivals among the Aja. Song and drumming competitions, voodoo coven initiations, and various communal sacrifices take place during these months. It is party time for the Aja. These practices, for the most part, are steeped in worship to the gods and ancestor veneration. Christians do not participate in them, but they have a strong desire to gather in large groups and celebrate. The Etakpekpe which has taken place in January for the past two years has become the Christian festival. Ninety percent of the Christians and many non-Christians attended this year's Etakpekpe at Koyohoue. Four hundred people gather for three days to celebrate their salvation and praise the Lord. It was the high point for the year.
Funerals are common among the Aja who have a life expectancy of less than fifty years and one out of seven of their children will die before their fifth birthday. The traditional funerals are wholly wrapped up in the gods and the ancestors. There have only been two deaths among the Christians at this point, but the leaders planned and preformed ceremonies that honored the dead, comforted the families, and honored the Lord.
Literacy
Just under forty percent of the Aja Christians are literate. This is higher than the ethnic group as a whole. Just how much higher is difficult to determine. Ten year old statistics put the literacy for the entire country at just over ten percent. There are no figures available for only the Aja. The reason for higher literacy in the church could be that those who are a bit more educated or have acquired the skill of reading are more receptive to change. It may have something to do with the teaching methods we use. It could be the way in which we determine literacy. At the end of the year, when we are collecting the details for the church growth study, we simply call the name of each Christian and ask if he/she can read. This question deserves further study.
The literacy in individual congregations ranges from twelve percent to seventy-one percent.
Ten percent read only Aja, eleven percent only French, and seventeen percent read both Aja and French.
Aja only 10.5%
Aja & French 17.4%
French only 11.3%
Total Literacy 39.2%
Gender
Last year 30% of the Christians were women or girls. That fact caused us some concern. This year it has moved up to 39%. This is quite different from the situation in churches in most African countries where the women most often out number the men.
Married
There are 149 married Christians, which is 31% of the total. However, only 54 of them have Christian spouses. That means that nearly two-thirds of the married Christians are living with spouses who do not share their faith or changing worldview.
The Aja Christian community needs to expand its worldview to comprehend the rights and responsibilities of citizens of God's Kingdom. They need to grow in communion with Him. This process may take several years, particularly for this first generation of believers. The foreign missionaries cannot design a curriculum to accomplish this. In order to be of real benefit to these congregations, the process must be born from a dialogue between the Aja Christians and the Lord. Missionaries can only facilitate the dialogue.
Religious Background
The lack of Christian influence was a major fact that drew us to the Aja people. Less than ten percent of them were Christians. Ninety percent of the members of the Church of Christ among the Aja were converted from their traditional African religion and its pantheon of gods. The rest were formerly members of some Christian group. Most of those were no longer active in those churches before evangelists of the Church of Christ had begun to preach in their village.